Hello everyone!! Thanks for stopping by today! Today I would like to announce the beginning of a new giveaway!! This giveaway is to celebrate the one year anniversary of my blog, and others. I am so grateful for each and every one of you who stop by and comment, or even if you don't comment. The whole point of starting this blog was to share my manis with people who are actually interested. I mean my boyfriend can only pretend to be so excited about new manis!! I appreciate eacha nd every one of you and to celebrate this , we have formed a collaboration of bloggers offering some really awesome prizes!!!
1. Open INTERNATIONALLY!! ( yayyy!!! )
2. Absolutely no cheating will be tolerated. Please play nice.
3. Please don't like any of the pages only to unlike them after the giveaway. It was so cool of them to be in on it and it's very uncool if you do... and you will probly be banned from future giveaways. :(
4. Must be 18 years old or have parents permission!
5. Winner's must respond to their emails within 48 hours.
7. Once packages are shipped the sender is no longer responsible for anything that happens in transit. We love to wrap and make sure your polishes are safe and warm during their trip but sometimes things happen :(
6. Have fun!
Here are the amazing prizes!!
Us only prizes:
My Nail Polish is Poppin
Kiss nail stickers princess. Ulta jaded, Hard candy fun n' festive, Trim manicure set, Physicians formula on the go stackable california girl set
Halloween nail file, Wet n Wild Fantasy Makers Nail in the coffin & Go with the glow, China glaze Ruby Pumps, Halloween costume nail stickers
4 Boys 1 Mom Lacquer
Pure Ice nail polishes:
Envy, Magic, Fast Lane and Absolutely Marvelous with an 8 pack glitter set!
Glow In The Dark top coat set, LE Wet N' Wild Drinking on a Glass of Shine palette, and Nicole by OPI My Cherry Amour
3 mini (5ml) polishes from Hit Polish's Halloween collection, one each of Witch's Brew, Halloween 2.0, and Jack Loves Sally
2 full sized bottles of polish: Fett's Vette and Dystopia
2 full size lacquers Witches Brew and Bite Me!
Pictured is a holo polish, the rest glow in the dark and the 3rd pic from left was made only for the giveaway and some fun nail stickers and gems.
3 full size bottles made specifically for this giveaway. Bloody
Mary, Harvest, and Hocus Pocus
1 full size bottle from Valhalla Collection
Llarowe
Full size bottle of Emily de Molly Turbulence and a full size bottle of llarowe Dirty Diana
Aly's Dream Polish
1 full size bottle of choice from her store and a necklace
NailNation 3000
3 full size bottles: Gold Bug, My Polish Is Poppin, (RED Tint) DBL Holo Gray Canceling Color Tint TopCoat
Glam Jams with Tina
Nail sticker set with cuticle oil, tools, and a rice bag to heat up and apply stickers
Polish Luv
Full size Polish Luv nail polish Fall Festival and Elf Orange Glitter
My Spirit Fingers
2 full size Halloween nail polishes Frank & Cats eye
Superficially Colorful
3 full size thermal polishes- Impulsive, Daring,and fascinate
$15 Llarowe Gift certificate
My Nail Polish is Poppin
$25 Etsy gift certificate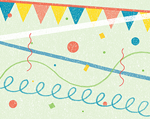 Again, t
hank you again to all of our fans and to all the awesome people who helped make this giveaway SO amazing!
a Rafflecopter giveaway